Nussecken , Homemade Nut Corners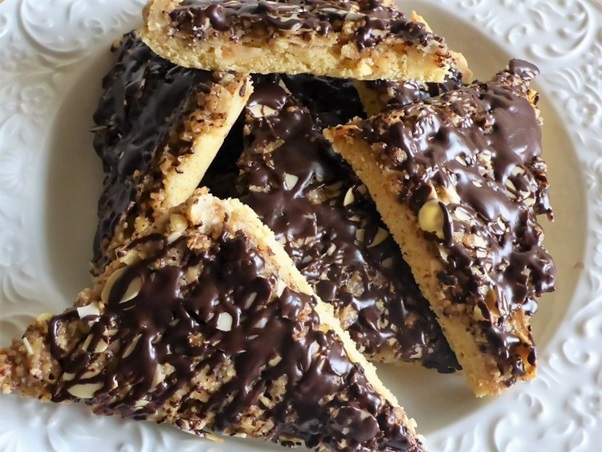 This delicious pastry with a shortcrust pastry base ,a layer of jam and a roasted mass of nuts tastes just too good . Perfect for Saturday or Sunday afternoon coffee gatherings . And we show you how easy it is to prepare the delicious nut corners yourself .
Although this cookie seem a litt le bit over whelming they are actually its not hard to make . The trickiest part is getting the dough stretched out. For this you will have to roll it out on a measured piece of parchment paper or you will have to stretch it out and put it down with your fingers.
These German nut corners will dress up any cookie tray and are also a superb gift from your kitchen . You will not believe how absolutely delectable they are .
Here is what you are going to need for these exquisite and elegant German nut corners:
Makes 24 cookies.
How to make Nut Corners (Nussecken):
For the shortcrust pastry:
470 g of flour
190 g soft butter or margarine
140 g of sugar
3 eggs
1 1/2 teaspoons baking powder
1 pinch of salt
3 Tablespoons apricot jam to spread
For covering :
200 g butter
130 g sugar
2 teaspoons vanilla flavor
4 tablespoons of water
400 g hazelnuts
For the decoration:
200 g whole milk couverture
200 g dark chocolate coating
2 tablespoons oil
Instructions for making Nusseken:
First you need to prepare the shortcrust pastry. Put flour, butter , sugar , eggs , baking powder, and a pinch of salt in a bowl and knead everything with your hands into a smooth dough. Then wrap it in cling and let it rest in the fridge for half an hour.
Line a baking sheet with baking paper and spread the dough evenly over it.
Now put the apricot jam on the dough and spread it evenly.
Put the hazelnuts in a freezer bag or in a tea towel and crush them with a rolling pin ,a pot or a pan . The main thing is that the pieces get nice and small .
Heat butter in a saucepan , add sugar , vanilla flavor and water and let everything boil . Put the crushed or chopped hazelnuts in the pot and stir well .
Put the nut mixture on the baking sheet and distribute it evenly. Place the sheet in the oven at 160° C for 30 minutes .
After half an hour,remove the tray from the oven and let the baked dough cool down . Then cut it into 8.5 × 8.5 xm squares and then diagonally into triangles so that you end up with 24 corners.
Melt the whole milk and dark chocolate coating over a water bath. Add 2 tablespoons of oil and stir well. Now dip the nut corners with the short sides into the melted chocolate and then place them on baking paper to dry .You can keep these in a closed container for up to a week inside the fridge. Enjoy your nut corners.
How about if you refined the nut corners with melted white chocolate? Certainly also very tasty . Or you can use raspberry or strawberry jam instead of apricot jam .
This German nut corners you just made belong to the classic and traditional German desserts.
You can chop hazelnuts with food processor or even you can make and knead the dough with the processor.