Foods To Try In Ho Chi Minh City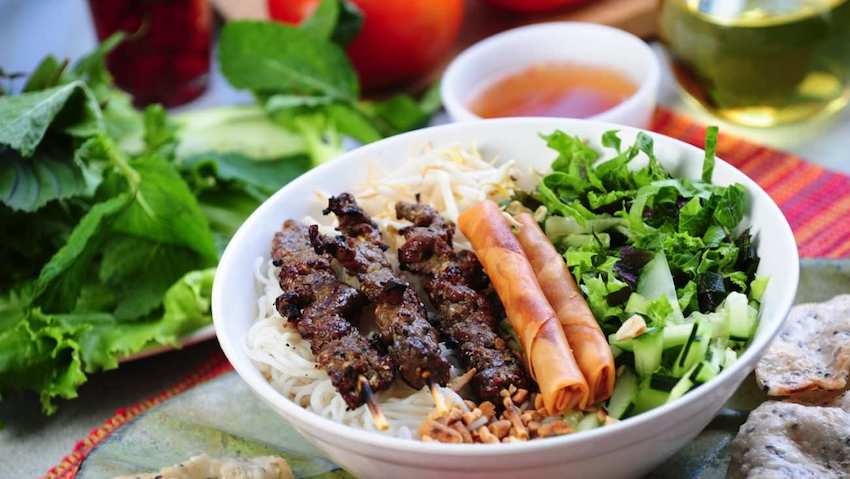 Vietnam is a country that attracts millions of visitors each year. It boasts beautiful beaches, rich cultural landmarks, and beautiful landscapes. But let's not forget the delicious food! Indeed, Vietnamese food is regarded as one of the most nutritious and delicious cuisines in the world: if you are a foodie, Vietnam will satisfy your cravings for hearty and spicy foods that taste amazing.
If you are new to Vietnamese food, one of the best places to try local food is in Ho Chi Minh City. If you are coming here, and need a cheap hotel in Ho Chi Minh, check out here now.
The vast assortment of local dishes could make it hard for tourists to choose what to try. In this article, you'll find a list of some of the best foods to try in Ho Chi Minh. Keep reading to find out which dishes you should not miss on your next trip to Ho Chi Minh City!
Banh Mi
This sandwich is probably the most popular Vietnamese food and one of the best known outside the country. The Vietnamese word stands for "bread", but this famous street food is much more than a mere sandwich. It comes in different varieties, but the base is a crunchy baguette stuffed with pork, carrot, cucumbers, coriander, and chilies. The pork version is the most common, but you can find Banh Mi with fish, boiled sausages, chicken (instead of pork) and eggs.
Pho
When you think about Vietnamese foods, chances are you first imagine this rice noodle soup, also known as Pho. Enriched with beef or chicken, bean sprouts, and greens, this soup is simple but extremely tasty. Enjoyed throughout the whole country, Pho has become a national dish. In Ho Chi Minh City, you can have this dish almost anywhere but at their local price.
Bun Thit Nuong
If you believe noodle soups are all the same, you are wrong! Bun Thit Nuong is one of the best foods to try in Ho Chi Minh City. Even though less popular than Pho, this dry noodle soup made with cold vermicelli and dressed in fish sauce is worth trying. Usually topped with grilled pork, sprouts, and herbs, this dish is an explosion of flavors that will leave you satisfied.
Com Tam Suon Noung
Translated as "broken rice" with marinated grilled pork in English, this dish is another popular dish that you'll probably fall in love with. You'll find several restaurants offering this dish but if you can, follow the recommendations of the locals. The pork chop is marinated with a delicious sweet and savory sauce that leaves it extremely tender and delicious.
Goi Cuon
The popular Vietnamese spring rolls are a fresh and healthy traditional appetizer that can be appreciated in various sauces to enrich
Bun Cha
Despite not being originally from Vietnam, if you have the opportunity, make sure you try this delicious dish out. You'll be able to find many spots in the city selling Bun Cha and you'll most probably find yourself dreaming about it after having tried it.
Bun Cha is made of fresh vermicelli noodles, seasoned charcoal-grilled pork patties, and an iconic bun. The dish is served in a soup topped with herps and greens. You'll find several locals enjoying their Bun Cha at nearly every time of the day: make sure you try it too!
Banh Xeo
This savory pancake made of rice flour, coconut milk and turmeric is another delicious street food you need to try in Ho Chi Minh. Usually stuffed with pork, shrimps, and onions as well as mushrooms and bean sprouts, you can enjoy Ban Xeo dipped in delicious sauces for enhanced flavoring.
Chao
If you've visited more Asian countries, you probably already know that most Asian countries have their version of rice congee: a rice porridge typically eaten for breakfast. In Vietnam, it comes by the name of Chao. There are many different types of Chao, the most popular being the one with pork.
The Bottomline
Vietnam in general and especially Ho Chi Minh City offer you great opportunities to discover new dishes and to get your taste buds to explore new flavors. As you can see the assortment is vast and suited to different tastes. Use the list above to inspire you, but don't be afraid to try more dishes. Remember that the list only includes some of the best foods to try in Ho Chi Minh City and that there are many more dishes that are worth trying. Be curious and try as much as you can!