What Should a Color Guard Uniform Include? A Closer Look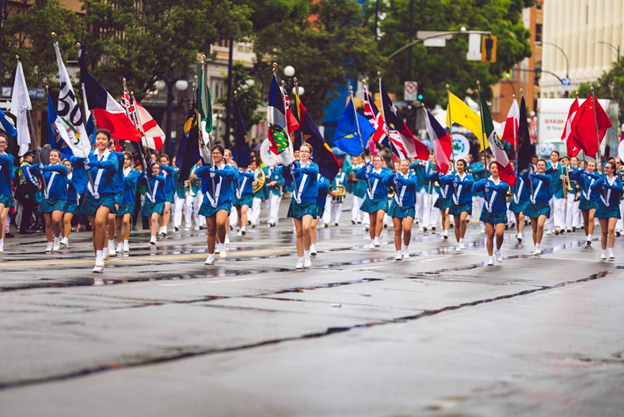 There was a time when color guard seemed like the less popular stepsister of cheerleading, but this is no longer the case. More people are discovering how fun and difficult it is to be in color guard, and it's gained more popularity.
One of the most fun things about color guard is the color guard uniform. These stretchy and colorful costumes make the performers stand out during parades or field shows.
But what should you be considering when you're looking for your new color guard uniforms? Let's talk about it. Read on to learn more.
Choosing Colors
One of the most important aspects of color guard costume design is the colors that you choose. Whether you plan on re-using uniforms year after year or you're picking them for a specific performance, you have to think long and hard about this.
If you plan on using the same costumes year after year, there's nothing wrong with matching your school's colors. This is a simple way to get the most out of your uniforms and no one will question the color choice.
It's helpful to have colors that work well with each other. High-contrast uniforms look effective both in field shows and in parades.
If you're using two-piece uniforms, we recommend putting darker solid colors on the bottom and lighter colors on the top. This tends to be more flattering and the lighter colors stand out better, so they'll show off the guard's movements.
If you're buying costumes for a single event, you can be more creative.
Are you planning costumes for a Christmas parade? Adding in some extra red, green, gold, or silver will get the audience in the holiday spirit.
Types of Fabric
This is another tricky issue that will depend largely on your specific shows and your climate.
Remember that color guard members are usually performing outside. You need to make sure that they're comfortable enough to complete their routines. You don't want anyone to overheat or to be too cold to function (which is common during holiday field or parade performances).
In this case, it's a good idea to have both a warm-weather uniform and a cold-weather uniform.
If your performers do a lot of moving around, lycra is a comfortable fabric for warm weather. It's stretchy and opaque enough that no one should have to worry about accidental wardrobe malfunctions.
During the winter, you still want something stretchy, but you also want the guard to be warm. If they're in pants, they can wear another pair of leggings underneath, but this isn't always an option for skirts, leotards, or dresses.
Spandex and velour are good options for winter or late fall costumes.
Accessories and Final Touches
No color guard uniform design is complete without accessories. Again, accessories will vary depending on the performance.
During winter performances, many guards wear gloves. White or black gloves are customary because they look neat and professional and they suit a wide range of uniform styles.
Make sure that the gloves have enough grip for the performers to continue using their equipment.
It's abnormal for color guard members to wear hats, but hair accessories are common, especially for people with long hair. Choose bows and hair ties that complement the costumes. During winter performances, thick headbands that cover the ears are also effective.
You want to avoid anything that could get in the way of performances. While capes and sashes look good, they could interrupt complex flag, rifle, baton, or air blade tosses.
Color Guard Uniform Shoes: Do They Matter? 
When it comes to the shoes, they aren't as crucial as the rest of the elements of the uniform as long as they're consistent.
Most bands prefer that all guard members buy their shoes from the band supply shop or a color guard supply shop. That said, in a pinch, having everyone wear plain black low-profile sneakers is often just as effective and it will save the guard members money.
Have students buy their own shoes regardless. The color guard uniforms are your responsibility, but they'll take the shoes with them when they leave.
Picking a Style: Dresses, Pants, and More
So what style of outfit will you offer your color guard team?
For a long time, many color guards only consisted of women. It was common to only have dresses, skirts, and long tunics available. In 2022, this is no longer the case.
It's a good idea to ask each guard member about their own personal identity and preference when you order uniforms. Have both skirt and pant options so no one feels left out.
It's easier than ever to find pre-made cheap color guard uniforms that have matching dress and pant options. You don't have to sacrifice cohesion.
Costume Considerations 
For specific events and performances, you may want to think outside of the box. Standard color guard uniforms are great for the majority of competitions and shows, but if you have a theme that would go well with costumes, get creative!
For example, are you doing a Grease-themed show? Get poodle skirts and polo tops for your skirt-wearing guard members and black t-shirts and jeans for the pants-wearing guard members. They'll look like they've come straight out of Rydell High.
The main goal with your guard uniforms is to be cohesive. Even if you have the members in wacky costumes, as long as they all go together, it will still make for a great performance.
How Will You Design Your Color Guard Uniforms?
The uniforms are the most fun part of color guard! Put some time and effort into your color guard uniform design and pick uniforms that pop.
Remember, you want them to be stylish and comfortable (and fabulous).
For more helpful articles about the top trending topics, visit the rest of our site.