8 Most Beautiful and Most Amazing Beaches in Bali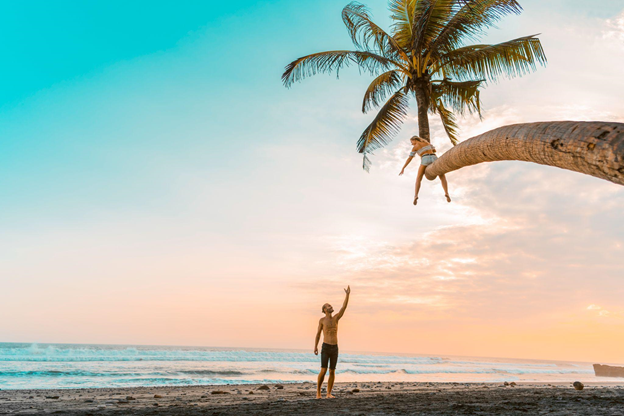 Bali is one of the paradise beaches in the world. Every year, millions of people from all over the world come to Bali to enjoy the beautiful and amazing beaches. Hunting for the moment of sunrise (sunrise) and sunset (sunset) which is very impressive are examples of two favorite activities that are often done by tourists in Bali.
Beautiful beaches can be found easily in every corner of the island of Bali. Bali beaches also have various types, such as fine sandy beaches, high cliff beaches, and so on. Among the many beautiful beaches on the Island of the Gods, we will discuss eight of the most beautiful beaches for you to visit.
Kuta Beach
Kuta Beach is one of the beaches on the island of Bali which is very famous throughout the world. Millions of tourists from various countries have visited here to enjoy its beauty. This wide white sandy beach offers a very cool sunset view so you shouldn't miss it when on vacation in Bali.
The waves are also very popular among surfers, so it's no wonder that surfers flock to Kuta Beach. You don't need to bother bringing a surfboard because you can rent it here. Sitting enjoying the beauty of the beach or taking a walk along Kuta Beach, is also an exciting activity to do.
Sanur Beach
Sanur Beach is one of the best places to witness the spectacular sunrise. With conditicalmer conditionsuta Beach, Sanur Beach is also a suitable place for leisurely walks and cycling activities while enjoying the village feel that is still maintained today.
During your walk along the Sanur Beach trail, you can see many things, such as old villas and parked fishing boats. In addition, the clean white sand on this beach also supports swimming activities that are refreshing and fun.
Virgin Beach
Visiting this beach is as if you were visiting a private beach. Why? Virgin Beach is one of the hidden beaches on the island of Bali, whose location is flanked by two high cliffs. Therefore, this beach vacation will feel like a vacation on a beach or a private island.
I called Virgin Beach probably because this beach still offers a unique natural atmosphere. Its delicate and clean sandy beach is also very suitable as a place to play, sunbathe, and do other fun activities.
Pandawa Beach
This beach offers views of two vast and beautiful rocky cliffs where on one side are carved five statues of Pandavas and Kunti. With seawater conditions that are quite calm and bluish, Pandawa Beach is suitable for swimming and canoeing activities.
The beach is located behind the hills also offers clean fine white sand and stunning underwater beauty. So, you can do many exciting activities while there, such as taking a leisurely walk in the morning to enjoy the sunrise or diving in the afternoon to greet the various marine life.
Nusa Dua Beach
This is one of the most beautiful beaches in Bali which is suitable to be visited with family or beloved friends. Nusa Dua Beach has an amazing stretch of white sand plus a refreshing green atmosphere of trees. In addition to the clean beaches, the waters on Nusa Dua Beach are also relatively clean so you can see the conditions below.
Along its coastline, you can find family-friendly restaurants, water sports services, and even shopping complexes. Near this beach, there is a luxury resort that directly faces the sea, which makes it the best choice for staying with family when you want to enjoy the various beauties of Nusa Dua Beach.
Seminyak Beach
Seminyak Beach is one of the most beautiful beaches on the island of Bali which is the main beach of choice for tourists. This beach has a wide and impressive stretch of golden sand. In addition, near the beach, there are a number of five-star hotels, beach bars, and restaurants with a variety of mouthwatering dishes.
There are many things you can do at Seminyak Beach, such as study or surf on the gentle lapping of the waves, bask in the warm sun, or sit on colorful bean bags to enjoy the beautiful sunsets. Strolling around Seminyak Beach is also a very fun activity for you to do with friends or family.
Crystal Bay Beach
Crystal Bay Beach, located on the island of Nusa Penida, holds many stunning beauties, such as beautifully lined palm trees on the beach, rocky islands off the coast, and hilly backdrops. This very beautiful beach is located in an isolated bay, so it takes a little effort to get there.
Crystal Bay Beach is approximately an hour's drive from Bali Island by speedboat. There are several relaxing bungalows and thatched-roof food stalls. One of the interesting activities that you can do here is diving to enjoy the beauty of coral reefs.
Jimbaran Beach
Jimbaran Beach is a long, wide, and soft white sand beach. Not only is it famous for its beauty, but this beach is also a place for local fishermen to sell fresh fish that they catch every morning. You can even find some very appetizing beachside barbecues.
A leisurely stroll along the beach is also a great place to do as there are lots of interesting things to see. In addition, you can also enjoy fresh seafood on the beach while accompanied by a very indulgent sunset.
Planning to visit Bali soon? Find out more about Bali and Indonesia by visiting Wonderful Indonesia.