5 Ways To Style Dupattas For Different Occasions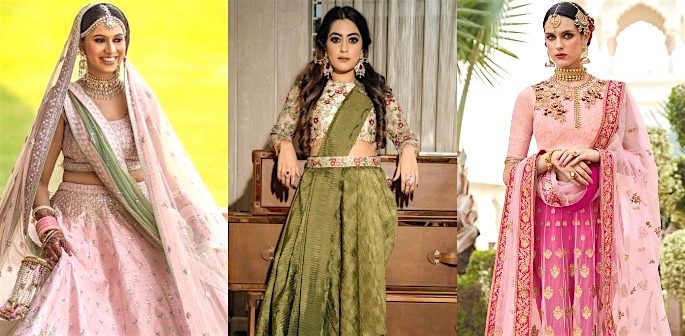 Dupattas are fundamental to creating an elegant ethnic style and adding a touch of sophistication to the overall ensemble. Now that the year's season is here, we all want to glam up and sparkle in our designer clothes. The time of year for festivities and special occasions has arrived. Now is the time to get dressed, refresh your holiday wardrobe with new combinations from top brands, and resume celebrating fashion and the holiday season. Celebrate the joyous season by donning modern fashions, and add the flavor of a more classic look by donning drape clothing. They are among the most stylish accessories you may wear and accessories in various ways because of their versatility.
#1. A White Suit with a Dupatta
Putting on a white suit could give the impression that you are calm and collected, but are you sure you would like to portray the image of a plain Jane? Why not take it up by donning a dupatta to complement an all-white appearance? This is the only accessory you need to add to finish the look. It is possible to make a white suit shine by pairing it with a colorful dupatta, such as an embroidered silk dupattas, and some jhumkas to complete the outfit. When paired with juttis, the appearance can be finished off as a celebration look or formal wear to the office.
#2. Dupatta, Jeans, and a Top
Pairing a person's favorite dupatta with only a top and jeans is becoming increasingly popular among fashion community members. There's a justification for doing things in such a manner. In addition to the fact that it gives off an air of sophistication thanks to the vibrant dupattas that breathe new life into your simple top, this is also a novel method to show off a fusion style.
You can wear your most cherished traditional dupattas with a pair of contemporary pants and a shirt. While you're at it, pick a dupatta with embellishments to make the fusion look more convincing!
#3. Wrap-around shoulder and wrist
You must learn how to wear a dupatta in this style before moving on to any other styles available to you in the art of wearing a dupatta. To achieve an elegant appearance, you must wrap the dupattas across your shoulders and then wrap the other end around your wrist or arm. This particular way of draping the dupattas looks very good when worn with lehenga cholis.
#4. Dupatta around the neck
In this particular fashion, the core components of the garment, rather than the dupattas worn as an accessory, are the focal points of attention. You may add some glitz and glamour to your look by draping the dupattas around your neck and wearing them like a scarf. This will have the same effect as wearing a necklace. It's a head-turner that gives your outfit a touch of class & style while also ensuring that your neck stays warm.
#5. Dupatta Shrugs
The latest addition to the fashion world is the shrug created out of a dupatta. If you have a good design and printed dupatta, you can wear it by joining corners together in various ways. Dupatta makes unique shrugs, and you can further style them with anything you want, jeans and tops, Kurtis, lehengas or even saree. Another thing is it is very easy to make using DIY methods.
Conclusion
This list is focused on renowned and forthcoming trending styles that give lovely looks, so it includes looks that have already become popular. Because of this, you should make it a point to try on at least one pair of collections whenever you are invited to a wedding or any formal occasion.